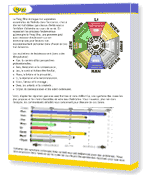 How to take this test?
1. This is not a timed test and does not require any particular knowledge of Feng Shui. It is composed of 50 questions and may take up to 15 or 20 minutes of your time.

2. Answer the questions by choosing an option that best describes the reality of your current physical environment or your emotional state. If you are undecided on an answer, just follow your gut feeling.

3. In order for the results to be as accurate as possible, please take this test seriously. Take the time to think over each question carefully and choose the most appropriate answer which best reflects who you are.

4. Once you have completed the test, you will gain access to a 25-page personalised report. Please study it closely, determine which steps you wish to take and which changes you are willing to make in order to improve your way of living.